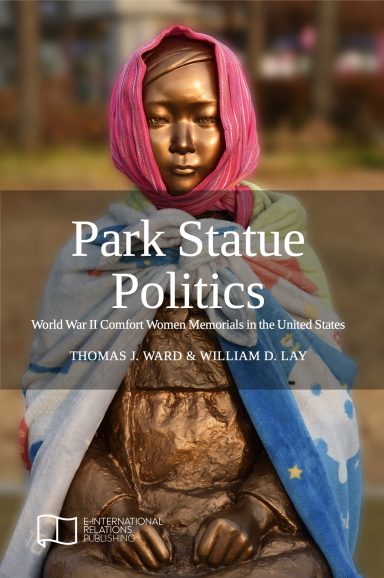 5,154 Downloads
Numerous academics have researched Japan's comfort women system that, for decades, forced innocents into sexual slavery. Since 2010 a campaign has been in place to proliferate comfort women memorials in the US. These memorials now span from New York to California and from Texas to Michigan. They recount only the Korean version of this history, which this text finds incomplete. They do not mention that, immediately following World War II, American soldiers also frequented Japan's comfort women stations. The Korean narrative also ignores the significant role that Koreans played in recruiting women and girls into the system. Intentionally or not, comfort women memorials in the United States promote a political agenda rather than transparency, accountability and reconciliation. This book explains, critiques, and expands on the competing state and civil society narratives regarding the dozen memorials erected in the United States since 2010 to honor female victims of the comfort women system established and maintained by the Japanese military from 1937 to 1945.
Find out more about E-IR's range of open access books
About the authors
Thomas J. Ward is Distinguished Dean Emeritus of the University of Bridgeport's College of Public and International Affairs. An honors graduate of the Sorbonne and a Phi Beta Kappa graduate of Notre Dame, he did his doctoral studies in Political Economy and International Education at the Catholic Institute of Paris and De La Salle University in the Philippines. He teaches graduate courses in International Conflict and Negotiation and Political and Economic Integration. A former Fulbright scholar, he has lectured at the Chinese Academy of Social Sciences in Beijing, and has been a Visiting Research Fellow at Academic Sinica in Taipei. His research on the comfort women issue has been published in East Asia and Asia Pacific Journal: Japan Focus.
William D. Lay is Director of the School of Public and International Affairs, and Chair, at the University of Bridgeport. He teaches graduate and undergraduate courses in international public law, international humanitarian law, US constitutional and criminal law, and human security. Born in Tokyo, he has traveled extensively in Asia and the Asia Pacific region. He was a Kent Scholar throughout his years at Columbia Law School, and was Senior Editor of the Columbia Law Review. He clerked at the New York Court of Appeals for Judge Joseph Bellacosa, a recognized authority on New York criminal procedure, and practiced law for 12 years with the Fried Frank and Skadden Arps firms in New York City before joining the UB faculty. His articles on East Asia have appeared in East Asia and the Harvard Asia Quarterly.
---
Table of contents
LOCAL POLITICS: THE PROS AND CONS OF PARK STATUES
THE ORIGINS AND IMPLEMENTATION OF THE COMFORT WOMEN SYSTEM
STEPS TOWARD REDRESS FOR THE COMFORT WOMEN
KEY MILEPOSTS AND ACTORS IN EFFORTS TO SETTLE THE ONGOING COMFORT WOMEN IMPASSE
KOREAN CIVIL SOCIETY ORGANIZATIONS: ACCOMPLISHMENTS AND EXPECTATIONS
OPPOSITION TO COMFORT WOMEN MEMORIALS IN THE UNITED STATES
STATUE POLITICS VS. EAST ASIAN SECURITY: THE GROWING ROLE OF CHINA AND CHINESE-AMERICAN CIVIL SOCIETY
INCONSISTENCIES IN THE KOREAN NARRATIVE
THE COMFORT WOMEN CONTROVERSY IN THE AMERICAN PUBLIC SQUARE
THE IMPLICATIONS OF ESTABLISHING A COMFORT WOMEN MEMORIAL IN THE UNITED STATES OR EUROPE
---
Dedication
In the mid-1930s, the government of Japan established a government- controlled network of brothels, referred to as "ianjo" or comfort stations, based on a massive Japanese private prostitution network in place since the emergence of Japan as a colonial power in the late nineteenth century. The ianjo system involved the deployment of tens of thousands of indentured Japanese sex workers across Northern Asia. As Japan prepared for war in the late 1930s, its military decided against continuing to recruit Japanese women for this purpose. The government replaced them largely with innocent Korean women and girls who joined the military because, in most cases, they had been deceptively recruited based on promises of a bright future with education and respectable, gainful employment. Instead these women became the exploited sex prisoners of the Japanese Army and the collaborators who had misled them into an unending nightmare of terror and rape.
This book is dedicated to the tens of thousands of women and girls who endured such deception only to face daily, multiple sexual violations by the Japanese military during World War II. Let us also remember the empty, ruined lives that surviving victims faced when they returned home after the war. They became marginalized from society because they had committed the "crime" of being raped. Sadly, the role played by Korean, Chinese, and Taiwanese collaborators in the deceptive recruitment of women and girls for Japan's comfort women system must also be told. Just as the Croat, Serb, and Romanian nationals who oversaw Hitler's concentration camps did not escape judgment because they too were "victims." The crimes of the comfort system collaborators should not be concealed when the comfort women's story is told.
We should not forget that the American military also had a role in all of this. They patronized the comfort women system during the first year after the war. After that, for 72 years until today, American GIs have patronized the hundreds of thousands of women and girls trapped in the camp towns around U.S. bases in Japan, Korea, and the Philippines. Like the WWII comfort women, many of these women's lives have also been destroyed. Nor can we forget that today, North Korean women escape every day across the border into China. To repay the "debt" for their "freedom," these women will be sold into a forced marriage or to a brothel in China. Many will face the same personal shock and terror that women and girls endured three-quarters of a century ago under Japan's military during the Pacific War. Human trafficking extends far beyond Asia. By properly telling the story of the comfort women and properly identifying all responsible parties, we believe that we can best contribute to a future world where all women will experience that personal dignity, respect, and genuine love that the comfort women could never know.
Reviews
A much better book than nearly anything else available from American university researchers on the subject.... Park Statue Politics, it is hoped, will be the beginning of a long-overdue reassessment of the history that underlies the historiography and the politics that distort our understanding of the past.
— Jason Morgan, Reitaku University
Before you download your free e-book, please consider donating to support open access publishing.
E-IR is an independent non-profit publisher run by an all volunteer team. Your donations allow us to invest in new open access titles and pay our bandwidth bills to ensure we keep our existing titles free to view. Any amount, in any currency, is appreciated. Many thanks!
Donations are voluntary and not required to download the e-book - your link to download is below.